The Vest Radiation Phone Case is an attractive, sturdy, high quality PU leather wallet case that protects the user from absorbing high levels of mobile phone radiation.
KEY FEATURES:
High quality vegan PU leather resists scratches to look fresh and new months and months later
Protects the phone on all sides and directions from bumps and drops
Protects from radiation (3G, 4G, 5G*) when using and carrying the phone. Blocks up to 99% radiation from penetrating through the cover. Reduces heat and discomfort
Credit card slots with RFID protection to stop skimmer theft
Blocks all types of signal radiation including current 5G (*sub 6 Ghz 5G)
Sound hole protected by anti-radiation mesh
Full-length inner pocket to store notes in
Media stand (universal model excluded)
Complete access to buttons, camera, ports, speaker, and microphone
Magnetic clasp holds the wallet closed and helps keep the phone protected if dropped
BLOCKING RADIATION
MODELS AVAILABLE
Apple: – iPhone 5, iPhone 6, iPhone 6 Plus,  iPhone SE, iPhone 7 & 8, iPhone 7 & 8 Plus, iPhone X / XS, iPhone X / XS Max, iPhone XR, iPhone 11, iPhone 11 Pro, iPhone 11 Pro Max, iPhone 12 Mini, iPhone 12, iPhone 12 Pro, iPhone 12 Pro Max, iPhone 13 Mini, iPhone 13, iPhone 13 Pro, iPhone 13 Pro Max.  Universal covers are also available in a range of colours and are suitable for all apple models.
Samsung: – Galaxy S7, Galaxy S7 Edge, Galaxy S8, Galaxy S8 Plus, Galaxy S9, Galaxy S9 Plus, Galaxy S10, Galaxy S10 Plus. Galaxy Note 10, Galaxy S20, Galaxy S20 Plus, Galaxy S20 Ultra, Galaxy S20 FE, Galaxy S21, Galaxy S21 Plus, Galaxy S21 Ultra. Universal covers are also available in a range of colours and are suitable for all Samsung models.
All Other Phone Makes – Huawei, Oppo, Google Pixel, Sony, Samsung, Nokia, HTC, Oneplus, ZTE, Telstra, Optus and many more. Vest's innovative Universal Wallet case is available in a range of great colours.
THE VEST UNIVERSAL WALLET CASE
Fits almost every brand, model, shape or size phone available.
CHOOSE YOUR VEST RADIATION CASE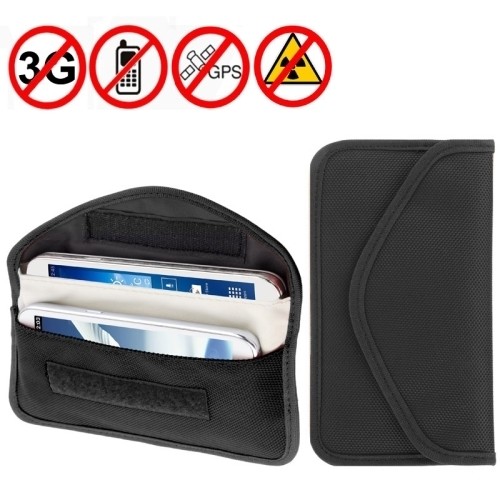 Nano Technology Anti Radiation Shielded Mobile Phone Wallet - Large
SKU 00075
Product Details
Nano Technology Anti Radiation Shielded Mobile Phone Wallet Large
FREE SHIPPING AUSTRALIA WIDE*
The Nano Tech Wallet protects the phone from scratches and wear as well as dramatically reduces your body's close-contact concentrated exposure to mobile phone radiation. The wallet can also be used to house and protect magnetic credit & ID cards from remote scanning & theft.
Features:
99.9% of radiation is blocked from penetrating through the case towards the body.
Slips easily in and out of a trouser or jacket pocket.
Opens & closes securely with a velcro flap.
Fits large smart phone sizes (easily fits even Plus sized smartphones).
Wallet size: 10 cm (3.94 inches) x 19.2 cm (6.38 inches) x 1.8 cm (0.71 inch).

How it works
The interior lining of the wallet is woven from silver coated threads (using nano-technology) which, being metallic, prevents mobile phone radiation from penetrating.
Outer pocket (shielded one side only): Stops 99.9% of radiation from penetrating the pouch and exposing the body. The phone will still receive and send calls, data and text etc
Inner pocket (shielded both sides): Stops 99.9% of phone radiation in ALL directions. The phone will not receive or send calls, data or text as signal is cloaked altogether. This pocket is a handy feature for people who need to quickly slip their phones in or out of use without going through the process of turning it on and off.
* Australia only, Express post not included; please contact us if required.


OUR SERVICE TO YOU

We are Australia's leading specialist mobile phone radiation accessory provider. All our radiation minimising technologies are tested and proven. Expect service that goes the extra mile including SAME DAY SHIPPING for orders received by 1:30pm; refer terms & conditions. Thanks for purchasing with us!

HEALTH
Men who keep a cell phone in their pocket for more than 4 hours per day have about a 50% lower sperm count (studies show categorically). Remaining sperm produced is also more sickly and less likely to be fertile.
Compelling anecdotal evidence suggests a link between breast cancer and mobile phones kept in the bra.
Save this product for later
VIEW OUR FULL RANGE OF PROVEN ANTI-RADIATION SOLUTIONS
We do so much more than just Vest anti-radiation phone covers. Browse our other outstanding anti-radiation accessories:
SHOP NOW