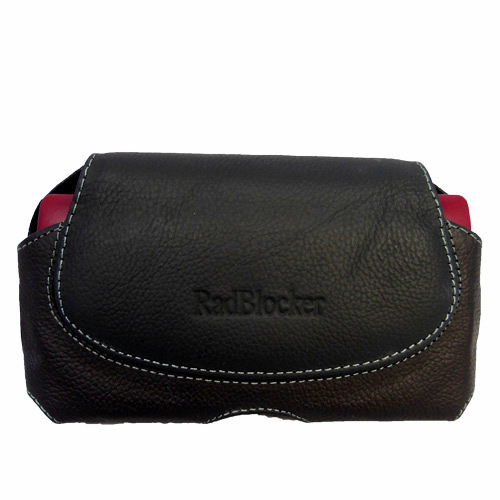 Radblocker Mobile Phone Radiation Protector Carry Case
SKU 00008
Product Details
Radblocker Mobile Phone Radiation Protector Carry Case
A mobile phone pouch that reduces your body's direct exposure to immediate proximity mobile phone radiation. The Radiation Blocker Pouch utilizes a protective anti-radiation shield between the outer and inner layers of the backside of the pouch to minimize electromagnetic exposure to your body and protect your body from dangerous cell-phone radiation.
FEATURES

- High quality material
- Opens & closes easily & securely with a magnetic lined flap
- Hi-end shielding components that help block up to 90% of the cellular radiation.
- Belt clip to easily clip onto the belt or top of the pants or skirt.
- Belt loop to thread a belt in through if preferred to using the clip.
RADBLOCKER SIZES:

These sizes represent the maximum available room inside the pouch. Please measure your phone and allow room for your phone cover and compare to the measurements below: If you don't have a ruler handy you can check your phone's measurements at "phonearena.com" and add additional room for your cover.
- Medium - 6cm x 11.5cm x 1.5cm = 2.35 inch x 4.5 inch x 0.6 inch
- Large - 7cm x 13.5cm x 1.5cm = 2.75 inch x 5.3 inch x 0.6 inch
- Jumbo - 8.5cm x 15cm x 2cm = 3.35 inch x 5.9 inch x 0.8 inch
- Note - 8.5cm x 15cm x 2cm = 3.35 inch x 5.9 inch x 0.8 inch

- Super Jumbo - 9.5cm x 16.5cm x 2cm = 3.74 inch x 6.5 inch x 0.8 inch

OUR SERVICE TO YOU
We are Australia's leading specialist mobile phone radiation accessory provider. All our radiation minimising technologies are tested and proven. Expect service that goes the extra mile including same day shipping for orders received by 1:30pm; refer terms & conditions. All products carry a 12 month limited warranty. Thanks for purchasing with us!
Save this product for later