What About Anti-Radiation Chips, Smart Stickers, Harmonising Buttons, and Shields?
Many mobile phone protection stick on shields, chips or buttons make claims to manage the radiation problem in ways that are not verifiable by recognised scientific methods. We have evaluated a number of such products and have found in many cases that many of them simply do not work. On the other hand, our Anti-radiation phone covers, headsets and other solutions offer outstanding levels of protection (up to 100%) and are proven by verifiable SAR testing in accredited laboratories. In fact we are proud to say that our range includes some of the most effective radiation reducing solutions available anywhere in the world.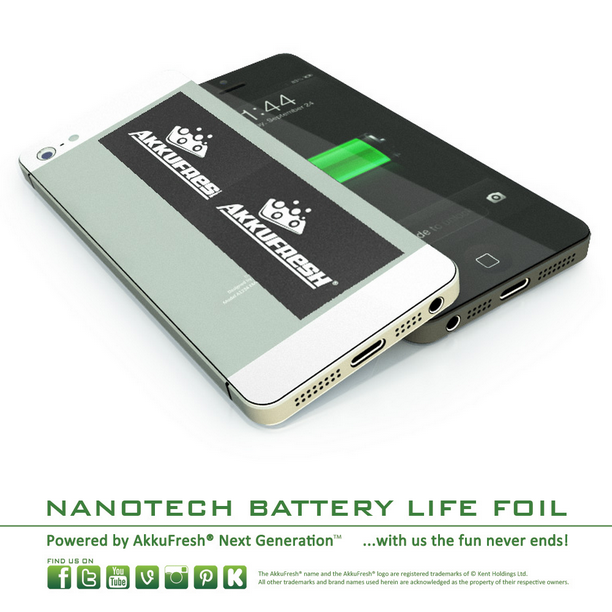 Akkufresh Battery Life Foil - Twin Pack - increase battery life!
SKU 00151AK2
Product Details
AkkuFresh® Battery Life Foil - twin pack - increases battery life, longevity and reduces charging time for rechargeable batteries! (Ni-CD, Li-Ion and Li-Poly)
Please note that this is not an Anti-Radiation product. It does not provide any protection from phone or wireless radiation.




Over 1 million sold internationally. Test results.




Features:
Offers more talk time and a longer stand-by time (up to 50% longer) on aged batteries.
Shortens charging time with up to 40% / Reduces the charging frequency.
Revitalizes worn or deteriorated batteries / Restores the original performance.
Blocks further battery deterioration.
Increases the total battery life span with an up to 30% longer lifetime (total charging cycles).
Eliminates the battery "memory" effect (only on Ni-CD batteries).
Protects the battery from electrical variations by regulating and filtering the current.
Easy to use and can be installed by the user in seconds.
Saves money by delaying the need to purchase new batteries.
AkkuFresh® Next Generation is a small (29 mm x 50 mm / 1.14 in x 1.97 in) rectangular foil which is installed in seconds by the user (inserted inside the battery's compartment). AkkuFresh® Next Generation is compatible with any portable devices, after installation it must cover minimum 80% of the battery's biggest side. Use more pieces of AkkuFresh® Next Generation for larger batteries. AkkuFresh® Next Generation can be trimmed with scissors to adjust its size to the battery and to ensure that it fits perfectly. Can be placed around the battery this way you don't need to cut the foil.
AkkuFresh® Next Generation is based on ionXtra-Power®, a new exclusively developed nanoceramic material, a result of years of laboratory research.

Specifically created for modern mobile devices with a wide color display, camera, internet, Bluetooth, games and enhanced multimedia features, which require high energy, AkkuFresh® Next Generation answers the growing battery life demand of current and future handsets.

Both old and new rechargeable batteries can benefit from AkkuFresh® Next Generation. The AkkuFresh® Next Generation foil slows down the capacity loss of Li-Ion and Li-Polymer batteries and thus induces improved battery performance.

Specifications:
Twin package contains a total of two 29 mm x 50 mm Akkufresh Battery Life Foils.
Enough Akkufresh Battery Life Foils should be purchased to cover 80% of the largest side of a battery.
AkkuFresh® Next Generation can be applied to any specific product and is designed to fit virtually any professional equipment's battery.
Save this product for later
More about Anti-Radiation Chips, Smart stickers, Harmonising Buttons and Shields
Stick on anti-radiation protection shields etc are often made of metal which may block signal and prevent reliable mobile phone communications with signal towers. Mobile phones recognise the potential for a dropped signal and actually increase power to compensate. The result is a fast draining battery and an even higher radiation output as a result of using the product (an exception to this are shields that are placed in between the phone and the user as these do not impede signal to cell towers to any significant degree)
To manage mobile radiation exposure successfully please refer to our phone safety tips or shop our high quality anti-radiation products that have been carefully selected not just on effectiveness and quality but also on ease of use and design.
Mobile Safety Store Effective Anti-Radiation Products
Proven Technology. Same Day Shipping.