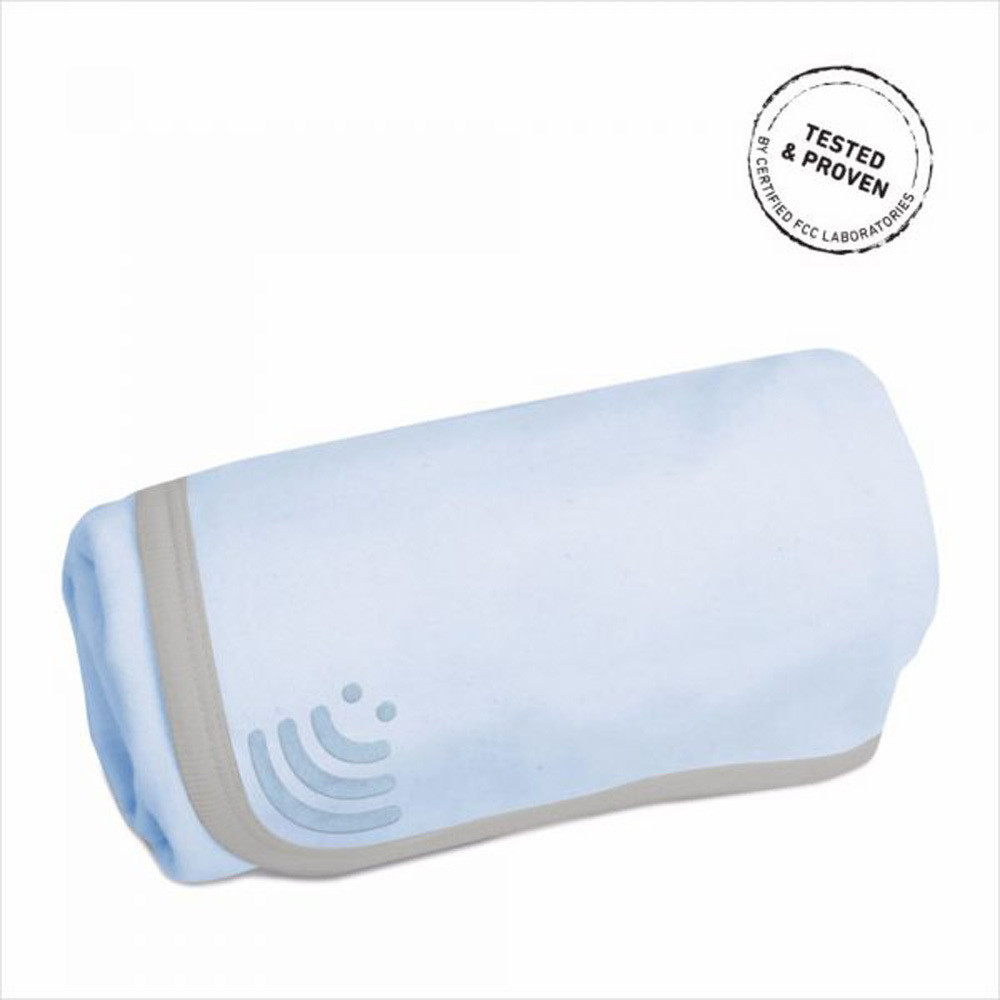 vest Anti Radiation Blanket
SKU 00094
Product Details
Vest anti radiation blanket
Vest anti radiation baby blanket keeps baby safe by helping shield his or her body from wireless technology radiation from devices such as baby monitors, wi-fi routers, mobile phones and towers etc.
The anti-radiation blanket is also an attractive and effective lap protection for adults and children for when they are sitting and using a laptop, tablet, iPad or phone on their laps.
Features
Vest Anti-Radiation Baby Blanket is made of dual layers of comfortable cotton fibre together with a metal fibre anti-radiation layer
Reduces radiation exposure by up to 100%
Is FCC certified laboratories tested and proven
High-quality design and construction
Dimensions 68 cm x 86 cm
How does it work?
Vest Anti-Radiation Baby Blanket is integrated with anti-radiation silver fibres. So treat yourself to the high quality and safe baby blanket you deserve.
Specifications

Reduces radiation by up to 100%
FCC Certified Laboratories tested and proven
High quality construction
Available in a range of colours
Eco-friendly recyclable packaging
• Size 69cm by 88cm
Package contains:
1 anti-radiation baby blanket
1 booklet
Care Instructions

Gentle machine or hand wash cold in washing bag provided
Air dry only
Do not tumble dry
Do not bleach

Do not iron
(The belly band utilises a similar anti-radiation technology to the baby blanket)
Save this product for later
Aircom Airtube headsets
Only Aircom Audio produces a truely a LIVE LISTENING EXPERIENCE! Sound that you'll not only hear, but feel in completely different way. For incredible live sounding Aircom headhones, pick your favourite model and purchase now.
UNIQUE TECHNOLOGY, PREMIER SOUND
Aircom headsets deliver a sound that no other headphone can duplicate. Sure, every headphone brand says great things about their sound, so what really is the big deal about the Aircom Audio range? Sound waves need air to travel through, lots of it. In fact, the more the better! (to an extent). A fundamental problem for every headphone brand is that headphone speakers are located inside earbuds that sit right up against the ear. Therefore there is very limited space between the speaker and your ear drum for sound to properly develop. Sound waves must be compressed and arrive at your eardrum compressed. This results in a sound that is artificial and has lost it's natural body and feel.
Aircom's airtube technology is completely different! It provides six times more air space than traditional headphones to achieve a genuine live listening experience. Premium sound performance that is full bodied, alive and realistic in a way that you've truly not ever heard in a set of earbuds before! That's why we patented it! That's why we know you'll love it!
MIND YOUR HEALTH. HEALTH IN MIND.
Aircom headsets utilise an airtube (rather than cable) to carry sound the last 10cm from earphone cable to your ear. This means that it is impossible for radiation signal to be conducted up wires to your inner ear and brain. With concerns about phone radiation continuing, Aircom headsets may just be healthier for you than 99.9% of the headphones on the market!