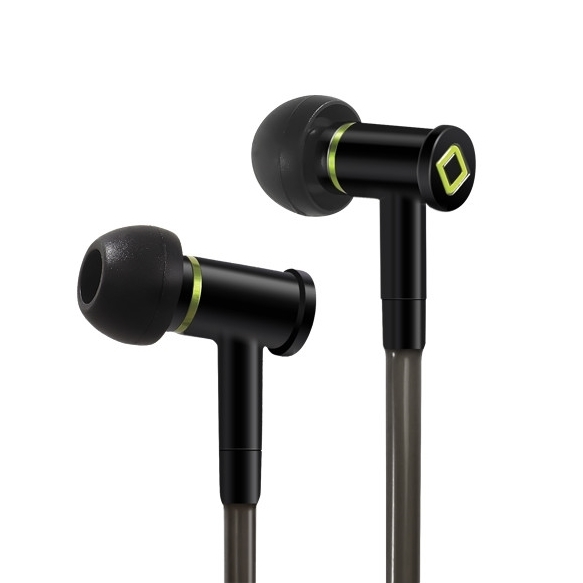 Aircom Audio A1 Airtube Headset
SKU 00070
Product Details
A1 Airtube Headset by Aircom
Micro airbuds paired with the airtube technology delivers BIG sound plus RF safety at all times when connected to your radiating mobile.

Even though the earbuds are micro in size, there is no sacrifice in sound quality. A patented sound technology uses an air-filled tube to increase airspace and sound development which produces more body and delivers a resonating and full "Live" listening experience. With built-in microphone for calling. Noise isolating eartips keep out unwanted background noise. Beyond sound, the gunmetal finish of the earbuds highlight the clean and sleek design. Includes a built-in microphone with CALL/HANGUP and PLAY/PAUSE switch.
Award winning technology / Aircom headsets deliver true "live" sound so you feel like you are front row at a concert.

Airtube technology provides a 15cm airgap between the headset wiring and ear. This prevents EMF's & RF frequencies from being transmitted through wiring and into the ear and head. Lab tests reveal a SAR level (radiation absorbtion measure) of zero. See how airtube headsets reduce radiation exposure.
Gold plated 3.5mm/4P stereo input plug. Detachable Lapel clip. Small, medium and large eartips. Built-in microphone with on/off switch.
The A1 Headset is compatible with all modern phones, tablets and other electronic devices. Please add an adaptor to your order if your phone or device does not have a 3.5mm headphone port as pictured below.

Save this product for later
Aircom Airtube headsets
Only Aircom Audio produces a truely a LIVE LISTENING EXPERIENCE! Sound that you'll not only hear, but feel in completely different way. For incredible live sounding Aircom headhones, pick your favourite model and purchase now.
UNIQUE TECHNOLOGY, PREMIER SOUND
Aircom headsets deliver a sound that no other headphone can duplicate. Sure, every headphone brand says great things about their sound, so what really is the big deal about the Aircom Audio range? Sound waves need air to travel through, lots of it. In fact, the more the better! (to an extent). A fundamental problem for every headphone brand is that headphone speakers are located inside earbuds that sit right up against the ear. Therefore there is very limited space between the speaker and your ear drum for sound to properly develop. Sound waves must be compressed and arrive at your eardrum compressed. This results in a sound that is artificial and has lost it's natural body and feel.
Aircom's airtube technology is completely different! It provides six times more air space than traditional headphones to achieve a genuine live listening experience. Premium sound performance that is full bodied, alive and realistic in a way that you've truly not ever heard in a set of earbuds before! That's why we patented it! That's why we know you'll love it!
MIND YOUR HEALTH. HEALTH IN MIND.
Aircom headsets utilise an airtube (rather than cable) to carry sound the last 10cm from earphone cable to your ear. This means that it is impossible for radiation signal to be conducted up wires to your inner ear and brain. With concerns about phone radiation continuing, Aircom headsets may just be healthier for you than 99.9% of the headphones on the market!