The Vest Radiation Phone Case is an attractive, sturdy, high quality PU leather wallet case that protects the user from absorbing high levels of mobile phone radiation.
KEY FEATURES:
High quality vegan PU leather resists scratches to look fresh and new months and months later
Protects the phone on all sides and directions from bumps and drops
Protects from radiation (3G, 4G, 5G*) when using and carrying the phone. Blocks up to 99% radiation from penetrating through the cover. Reduces heat and discomfort
Credit card slots with RFID protection to stop skimmer theft
Blocks all types of signal radiation including current 5G (*sub 6 Ghz 5G)
Sound hole protected by anti-radiation mesh
Full-length inner pocket to store notes in
Media stand (universal model excluded)
Complete access to buttons, camera, ports, speaker, and microphone
Magnetic clasp holds the wallet closed and helps keep the phone protected if dropped
BLOCKING RADIATION
MODELS AVAILABLE
Apple: – iPhone 5, iPhone 6, iPhone 6 Plus,  iPhone SE, iPhone 7 & 8, iPhone 7 & 8 Plus, iPhone X / XS, iPhone X / XS Max, iPhone XR, iPhone 11, iPhone 11 Pro, iPhone 11 Pro Max, iPhone 12 Mini, iPhone 12, iPhone 12 Pro, iPhone 12 Pro Max, iPhone 13 Mini, iPhone 13, iPhone 13 Pro, iPhone 13 Pro Max.  Universal covers are also available in a range of colours and are suitable for all apple models.
Samsung: – Galaxy S7, Galaxy S7 Edge, Galaxy S8, Galaxy S8 Plus, Galaxy S9, Galaxy S9 Plus, Galaxy S10, Galaxy S10 Plus. Galaxy Note 10, Galaxy S20, Galaxy S20 Plus, Galaxy S20 Ultra, Galaxy S20 FE, Galaxy S21, Galaxy S21 Plus, Galaxy S21 Ultra. Universal covers are also available in a range of colours and are suitable for all Samsung models.
All Other Phone Makes – Huawei, Oppo, Google Pixel, Sony, Samsung, Nokia, HTC, Oneplus, ZTE, Telstra, Optus and many more. Vest's innovative Universal Wallet case is available in a range of great colours.
THE VEST UNIVERSAL WALLET CASE
Fits almost every brand, model, shape or size phone available.
CHOOSE YOUR VEST RADIATION CASE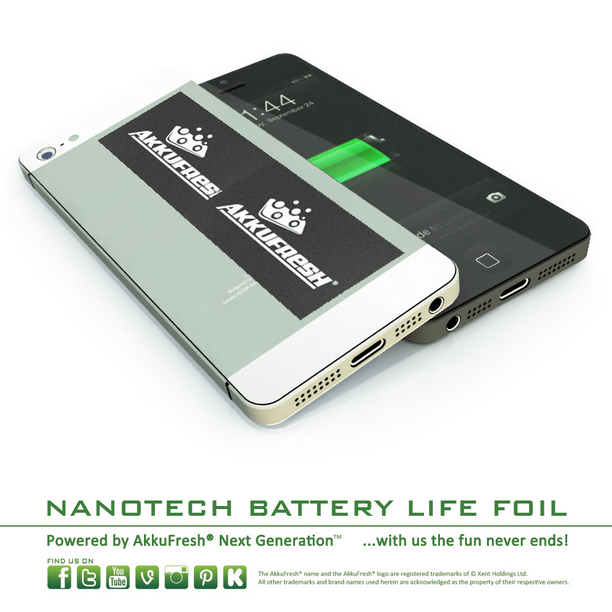 Akkufresh Battery Life Foil - increase battery life!
SKU 00150AK1
Product Details
AkkuFresh® Battery Life Foil increases battery life, longevity and reduces charging time for rechargeable batteries! (Ni-CD, Li-Ion and Li-Poly)

Please note that this is not an Anti-Radiation product. It does not provide any protection from phone or wireless radiation.
Features
Offers more talk time and a longer stand-by time (up to 50% longer) on aged batteries
Shortens charging time with up to 40% / Reduces the charging frequency.
Revitalizes worn or deteriorated batteries / Restores the original performance.
Blocks further battery deterioration.
Increases the total battery life span with an up to 30% longer lifetime (total charging cycles).
Eliminates the battery "memory" effect (only on Ni-CD batteries).
Protects the battery from electrical variations by regulating and filtering the current.
Easy to use and can be installed by the user in seconds.
Saves money by delaying the need to purchase new batteries.
Over 1 million sold internationally. Test results.

AkkuFresh® Next Generation is a small (29 mm x 50 mm / 1.14 in x 1.97 in) rectangular foil which is installed in seconds by the user (inserted inside the battery's compartment). AkkuFresh® Next Generation is compatible with any portable devices, after installation it must cover minimum 80% of the battery's biggest side. Use more pieces of AkkuFresh® Next Generation for larger batteries. AkkuFresh® Next Generation can be trimmed with scissors to adjust its size to the battery and to ensure that it fits perfectly. Can be placed around the battery this way you don't need to cut the foil.
AkkuFresh® Next Generation is based on ionXtra-Power®, a new exclusively developed nanoceramic material, a result of years of laboratory research.

Specifically created for modern mobile devices with a wide color display, camera, internet, Bluetooth, games and enhanced multimedia features, which require high energy, AkkuFresh® Next Generation answers the growing battery life demand of current and future handsets.

Both old and new rechargeable batteries can benefit from AkkuFresh® Next Generation. The AkkuFresh® Next Generation foil slows down the capacity loss of Li-Ion and Li-Polymer batteries and thus induces improved battery performance.

Specifications:
- Contains 1 x 29 mm x 50 mm Akkufresh Battery Life Foil.
- Enough Akkufresh Battery Life Foils should be purchased to cover 80% of the largest side of a battery.
- AkkuFresh® Next Generation can be applied to any specific product and is designed to fit virtually any professional equipment's battery.
Save this product for later
VIEW OUR FULL RANGE OF PROVEN ANTI-RADIATION SOLUTIONS
We do so much more than just Vest anti-radiation phone covers. Browse our other outstanding anti-radiation accessories:
SHOP NOW