VEST ANTI RADIATION PRODUCTS FOR EVERYDAY USE
Wonderfully designed, easy to use accessories that effectively minimize radiation exposure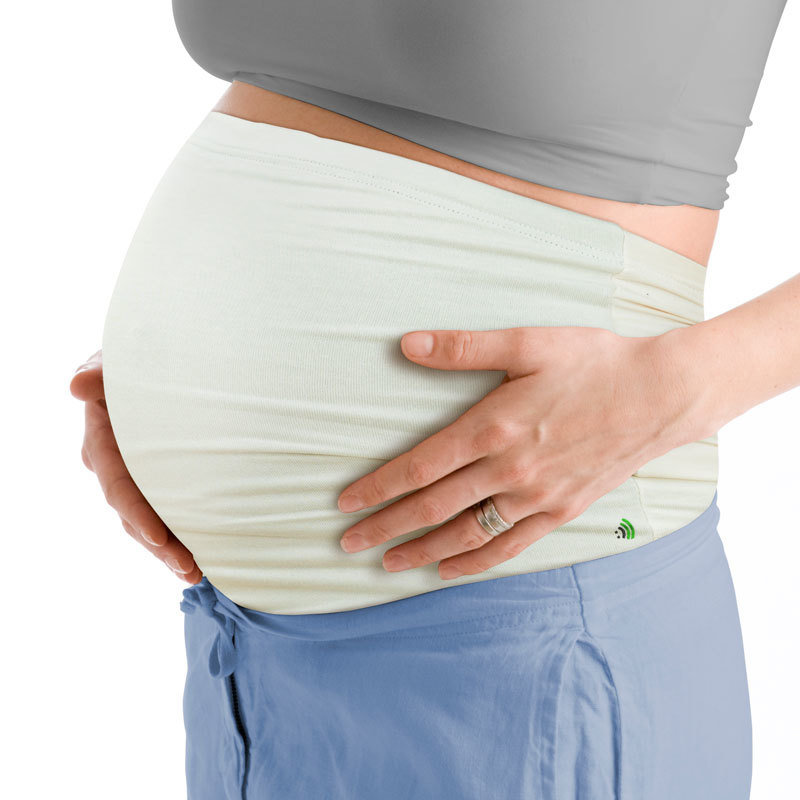 vest Anti Radiation Belly Band
SKU 00089WHTLRG
Product Details
Protect your baby during pregnancy from everyday wireless radiation while enjoying a high quality belly band. vest Anti Radiation Belly Band helps keeps your baby safe, complements your figure, is silky soft, comfortable to wear, anti-bacterial, air penetrable, and water resistant. To find out more about baby health and wireless radiation please refer to the information below.

vest Anti Radiation Belly Band provides your baby maximum protection:

Reduces electromagnetic radiation by up to 100% (not cosmic radiation from air travel)
FCC certified laboratories tested and proven
So treat your baby and you to the high quality and safe Belly Band you deserve.
How does it work?
The inner layer of the product is 97% silver fibre, 3% nylon, successfully blocking radiation. The outer layer is 97% bambo0 and 3% spandex.
Features
Reduces radiation by up to 100%
FCC Certified Laboratories tested and proven
Complements your figure
Comfortable to wear
Silky soft
Anti-bacterial
Air penetrable
Water resistant
A contemporary and organic design
Great for layering under tops and over jeans and skirts
Available in various sizes (S-XL - see size guide below)
Available in black and white
Eco-frindly recyclable packaging
Why Else Would I Consider Getting A Belly Band ?

Wardrobe Extender - Wear you pre-pregnant clothes for longer, especially trousers, jeans and skirts. As the tummy enlarges and it becomes difficult to do up the zip, clips or buttons, these can be left open and the belly band is worn over the top, covering the expanse of skin. They work like a "bridge" between where the top ends and where the pants or skirt start.
Warmth - Because they are another layer, they can be warm for the cooler months.
Layered look - Some mothers find they are just a good fashion accessory and provide a different layering look. They can smooth the mid section and provide an alternative to monochromatic colour when dressing.
Support - Some women find wearing an additional layer provides a feeling of support for their tummy.
Package contains:

1 Anti-Radiation Belly Band
Introducing Vest Anti-Radiation Belly Band


Lab Testing


Prenatal Exposure and ADHD

Mobile Radiation - An Environmental Toxin?
Pediatric Neurologist Dr Shetreat-Klein
More information at MobileSafety.com.au/pregnancy-radiation-risks/ and BabySafeProject.org
The Science
Save this product for later
Why Vest Anti-Radiation Products?
Mobile phones emit radio frequency energy, which is the same kind of radiation microwave ovens use to heat frozen dinners. Although the heat emitted by each individual device may be small, it is important to consider the amount of phones in the world. It's reported that the number of mobile phones has exceeded the world's population – that's over an estimated 7 billion mobile phones! That's a whole lot of radio frequency energy.
Worst of all, exposure to cellular radiation poses the greatest risk to children, as their nervous systems are still developing and exposure to cellular technologies will span a greater amount of time than that of adults.
With this information at our disposal, it's important to remember that cellular technology is not the enemy, and we don't have to fling our mobile phones and tablets into the abyss. The answer is simple: protection.
Just as a bike helmet works wonders in protecting a child's skull, vestTech's patented anti-radiation technology will dramatically decrease the amount of EMF emissions we are exposed to. The hands-free vestHeadset, an air-tube headset with silicone ear tips and speaker capsule, is free of metal (which cuts down on headset radiation) and distributes sound via a Stereo Acoustics Air Tube (SAAT).
If you prefer a more subtle method of protection, you can opt for the vestCase, a sturdy, multi-tasking mobile phone case constructed from revolutionary plastic that will guard your phone from ware and decrease radiation by 89%. And there's no reason that fashion and function can't play together nicely; both the vestTube and vestCase come in an assortment of fun colors that will accentuate your personal style.
To view the other brands and solutions in the Mobile Safety range, please checkout our webstore.
Most Searched Terms: Vest cases, Vest headsets, Vest Tech anti-radiation technology, Vest microwave radiation shields, Vest laptop radiation shields, Vest anti-radiation case, Vest anti-radiation headset.