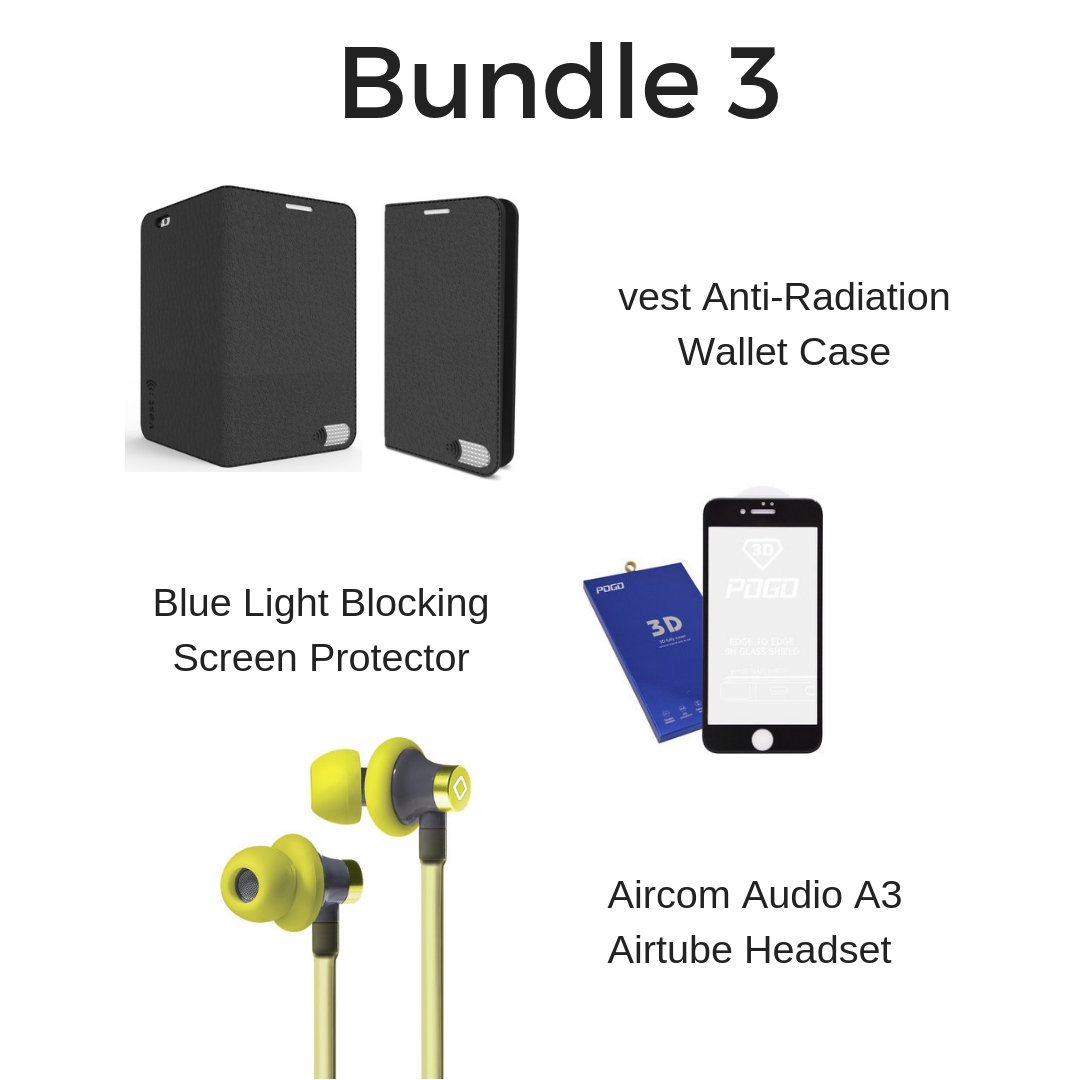 Wallet Case, Headset & Blue Light Screen Protector
SKU 00347
Product Details
Save $20 when you buy the Vest Radiation Blocking iPad / Tablet Case and Tempered Glass Screen Protector for iPads. This bundle includes:
vest Anti-Radiation Wallet Case
Vest anti-radiation wallet case is an attractive, sturdy, high quality PU wallet case that protects you from absorbing high levels of mobile phone radiation
- Radiation Protection: Vest wallet case minimizes your exposure to the radiation from your mobile phone by up to 98% when on a call or carrying the phone on you.
- Bump & Shock Protection: Prevents damage from knocks & drops from all angles and directions.
- RFID Credit Card and Identity Protection: Prevents scanners skimming credit card details.
Aircom Audio A3 Airtube Headset
Patented hollow airtubes produce a striking and unique full bodied, non digitalized, natural live sound. Radiation free. Potentially harmful phone radiation transmitted via the headset is zero.
- High quality headset: clear phone communication and freedom to use your hands elsewhere.
- Magnetic end-caps click together around the neck for fashionable easy access.
- With built-in microphone for calling
- Instant access to calls & music: use the clever microphone squeeze switch to answer / end calls or play / stop music.
- Ear bud tips in S/M/L for a snug fit, effective sound isolating seal & maximum sound quality. Ear bud rings also in S/M/L for a secure fit even when active.
- Compatibility. A3 Headset is for phones, tablets or other electronic devices with a 3.5mm jack and includes all iPhone and Android devices
Blue Light Blocking Screen Protector
This screen protector is made from chemically processed real glass, featuring high transparency, high sensitivity and delicate touch feeling. The tempered glass has an oleophobic coating to prevent fingerprints and other contaminants. With secure shatter-proof function, it will not be broken into small pieces of sharp. The 3D full coverage design ensures seamlessly covering the whole screen of your phone to provide maximum protection.
Save this product for later
Store Categories
---
Store Search
---