Store Categories
---
Store Search
---
---
Best Sellers
---
Retro Handset - Mini
00221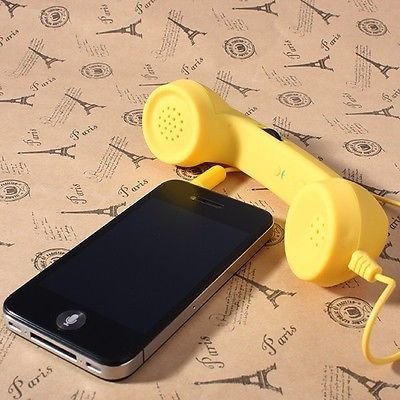 Talk for hours without phone radiation concerns with this great looking plug-in phone. Enables mobile phone functions to be accessed easily while on any call. Fits all phones that have a standard 3.5mm plug. This micro plug-in retro handset is 15cm long and fits comfortably in a bag alongside your mobile phone.
Description

Function:
1. Improve call quality, more comfortable.
2. Pick up / hang up button.
3. Eliminate more than 96% of mobile phone radiation.
4. Use your phone functions when making calls.
5. Volume adjustment
6. Provides a 3.5mm plug
7. Converts a computer to a telephone with Skype or VOIP applications.
8. Comfortable & easy handset to use

Specifications:
Speaker Diameter: 38mm

Microphone Length: 15cm
Frequency Range: 20-20KHz
Sensitivity:-52dB
Impedance: 150 (Ω)
Cable Length: 88-100cm (curved)
Plug: 3.5 mm
Material: Rubber coated durable plastic
Colour
Black (0) Yellow (0)