Reduce your exposure to electromagnetic radiation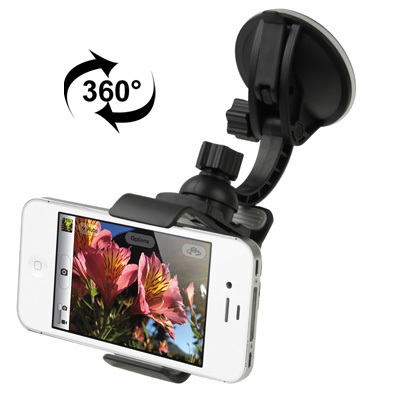 Car Universal Holder With 360 Degree Rotation
SKU 00077CAR
Product Details
Multi Directional Stand for mobile/PSM/PDA/Mp4
This black phone holder holds on to the windshield, dashboard or desks tightly; works with almost all standard phones.
Features include:
1) Mounts all smart phones and GPS devices up to a 5 inch screen

2) Flexible holder can be adjusted to any angle

3) Suit for any kinds of place like: glass surface, flat desk and windshield of motor vehicle

4) Newly designed lever-operated vacuum suction design.
1) Mounts all smart phones and GPS devices up to 5-inch screens
2)
Flexible holder
ball and socket joint

can be adjusted to any angle
3) Super grip with stable vacuum suction design
4) Suitable for many applications: glass surface, flat desk, windshield 5) Easy removal by pressing the quick release buttonand many more

5) Lever-operated on / off vacuum suction
OUR SERVICE TO YOU
Expect service that goes the extra mile including SAME DAY SHIPPING for orders received by 2pm; refer terms & conditions. All our technologies are thoroughly tested and proven. Thanks for purchasing with us!
HEALTH
Brain cancer is Australia's biggest killer cancer in people under the age of 39 and children under 10. There are 1,600 new cases annually and in malignant forms it is almost 100% fatal. Please donate to Cancer Council research. 30 minutes phone use per day (over 5 years) has been associated with TRIPLING OF BRAIN TUMOUR RATES. The United Nations World Health Organisation has categorised phone radiation as possibly cancer causing and encourages users to reduce exposure.
SPREAD THE WORD
Click "SHARE" or "LIKE" on this product above or add your comment below. Thankyou!
Save this product for later