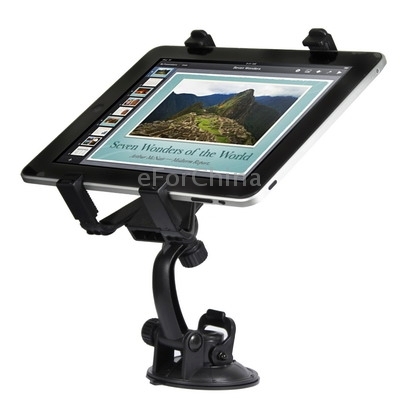 Car Mount Holder Kit Stand For iPad And Tab
SKU 00079CAR
Product Details
Car Mount Holder Kit Stand For iPad 4,New iPad (iPad 3) / iPad 2 ,iPad ,iPad mini / mini 2 Retina,SAMSUNG Galaxy TAB
Features include:
Hit the road with a windshield mount for your Handheld.

Compact and lightweight design Extra-firm gooseneck absorbs vibration, providing a stable viewing environment

The flexible arm can be adjusted to any angle for easy viewing.

Compatible with the following:
Apple: New iPad , iPad 2 , iPad and similar sized devices.
Samsung: Galaxy Tab 2 (10.1) / P5100 , Galaxy Tab2 7.0 , Galaxy Tab 2 (7.0) / P3100 , Galaxy Tab 7.7 P6800 , Galaxy Tab P6200 , Galaxy Tab P7500 , Galaxy Tab P7300 , Galaxy Tab P7100 , Galaxy Tab P1000 and similar sized devices.
OUR SERVICE TO YOU
We are Australia's leading specialist mobile phone radiation accessory provider. All our radiation minimising technologies are tested and proven. Expect service that goes the extra mile including SAME DAY SHIPPING for orders received by 2pm; refer terms & conditions. Thanks for purchasing with us!


HEALTH
Brain cancer is Australia's biggest killer cancer in people under the age of 39. Each year there are 1,200 new cases of aggressive brain tumours with only 5% of patients surviving the disease. The United Nations World Health Organisation has stated that mobile phone radiation is possibly cancer causing and advises reducing exposure. Read the

U.N. W.H.O. press release excerpt

.

Donations to brain cancer investigative research

can be made via the Cancer Council website.
U.S. phone manufacturer instructions include safe usage advice that requires users to keep the phone a minimum distance away from the body at all times.


iPhone 4 instructions

- 15mm (5/8th inch)


Blackberry instructions

- 25mm (0.98 inch)


HELP SPREAD THE WORD
To spread the important mobile safety message please click "SHARE" or "LIKE" on this product above or add your comment below. Thank you!
Save this product for later
Store Categories
---
Store Search
---