What About Anti-Radiation Chips, Smart Stickers, Harmonising Buttons, and Shields?
Many mobile phone protection stick on shields, chips or buttons make claims to manage the radiation problem in ways that are not verifiable by recognised scientific methods. We have evaluated a number of such products and have found in many cases that many of them simply do not work. On the other hand, our Anti-radiation phone covers, headsets and other solutions offer outstanding levels of protection (up to 100%) and are proven by verifiable SAR testing in accredited laboratories. In fact we are proud to say that our range includes some of the most effective radiation reducing solutions available anywhere in the world.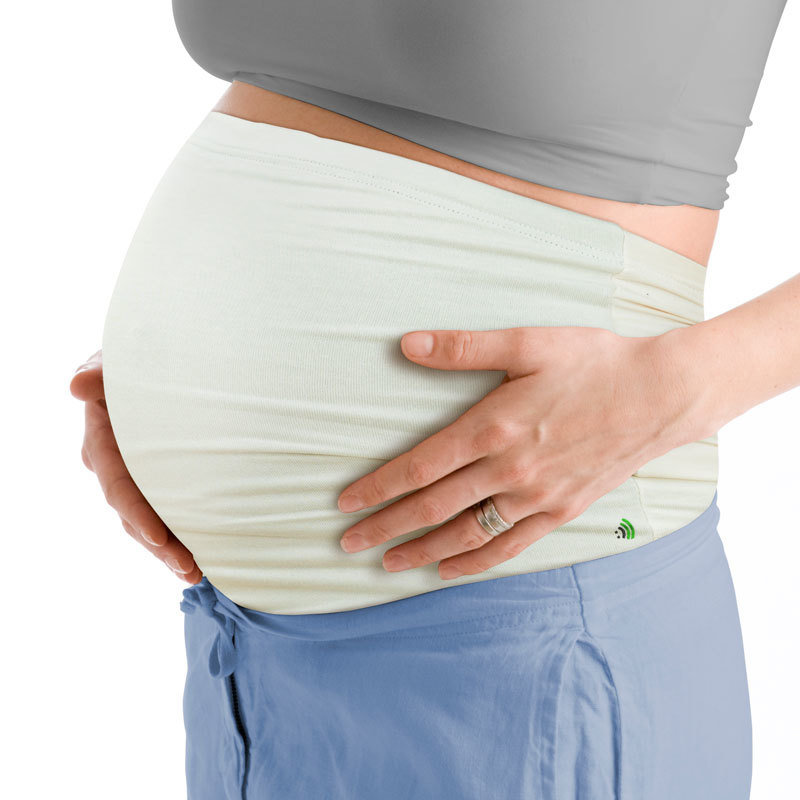 vest Anti Radiation Belly Band
SKU 00089WHTLRG
Product Details
Protect your baby during pregnancy from everyday wireless radiation while enjoying a high quality belly band. vest Anti Radiation Belly Band helps keeps your baby safe, complements your figure, is silky soft, comfortable to wear, anti-bacterial, air penetrable, and water resistant. To find out more about baby health and wireless radiation please refer to the information below.

vest Anti Radiation Belly Band provides your baby maximum protection:

Reduces electromagnetic radiation by up to 100% (not cosmic radiation from air travel)
FCC certified laboratories tested and proven
So treat your baby and you to the high quality and safe Belly Band you deserve.
How does it work?
The inner layer of the product is 97% silver fibre, 3% nylon, successfully blocking radiation. The outer layer is 97% bambo0 and 3% spandex.
Features
Reduces radiation by up to 100%
FCC Certified Laboratories tested and proven
Complements your figure
Comfortable to wear
Silky soft
Anti-bacterial
Air penetrable
Water resistant
A contemporary and organic design
Great for layering under tops and over jeans and skirts
Available in various sizes (S-XL - see size guide below)
Available in black and white
Eco-frindly recyclable packaging
Why Else Would I Consider Getting A Belly Band ?

Wardrobe Extender - Wear you pre-pregnant clothes for longer, especially trousers, jeans and skirts. As the tummy enlarges and it becomes difficult to do up the zip, clips or buttons, these can be left open and the belly band is worn over the top, covering the expanse of skin. They work like a "bridge" between where the top ends and where the pants or skirt start.
Warmth - Because they are another layer, they can be warm for the cooler months.
Layered look - Some mothers find they are just a good fashion accessory and provide a different layering look. They can smooth the mid section and provide an alternative to monochromatic colour when dressing.
Support - Some women find wearing an additional layer provides a feeling of support for their tummy.
Package contains:

1 Anti-Radiation Belly Band
Introducing Vest Anti-Radiation Belly Band


Lab Testing


Prenatal Exposure and ADHD

Mobile Radiation - An Environmental Toxin?
Pediatric Neurologist Dr Shetreat-Klein
More information at MobileSafety.com.au/pregnancy-radiation-risks/ and BabySafeProject.org
The Science
Save this product for later
More about Anti-Radiation Chips, Smart stickers, Harmonising Buttons and Shields
Stick on anti-radiation protection shields etc are often made of metal which may block signal and prevent reliable mobile phone communications with signal towers. Mobile phones recognise the potential for a dropped signal and actually increase power to compensate. The result is a fast draining battery and an even higher radiation output as a result of using the product (an exception to this are shields that are placed in between the phone and the user as these do not impede signal to cell towers to any significant degree)
To manage mobile radiation exposure successfully please refer to our phone safety tips or shop our high quality anti-radiation products that have been carefully selected not just on effectiveness and quality but also on ease of use and design.
Mobile Safety Store Effective Anti-Radiation Products
Proven Technology. Same Day Shipping.