What About Anti-Radiation Chips, Smart Stickers, Harmonising Buttons, and Shields?
Many mobile phone protection stick on shields, chips or buttons make claims to manage the radiation problem in ways that are not verifiable by recognised scientific methods. We have evaluated a number of such products and have found in many cases that many of them simply do not work. On the other hand, our Anti-radiation phone covers, headsets and other solutions offer outstanding levels of protection (up to 100%) and are proven by verifiable SAR testing in accredited laboratories. In fact we are proud to say that our range includes some of the most effective radiation reducing solutions available anywhere in the world.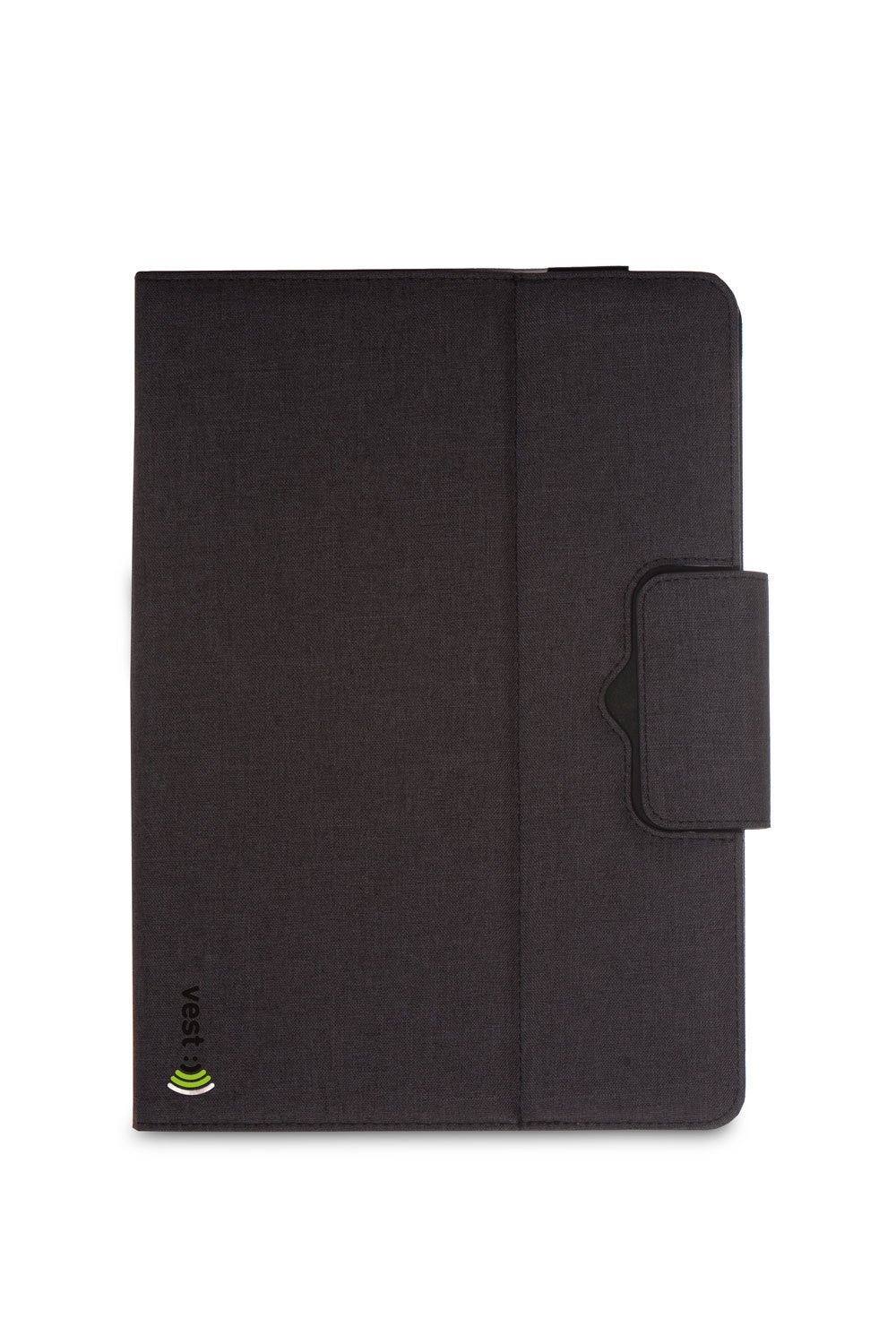 Vest Radiation Blocking iPad / Tablet Case - Small
SKU 000306BLK
Product Details
Vest Radiation Blocking iPad / Tablet Case - Small

The Vest iPad Radiation Shield is uniquely structured with built in powerful radiation blocking materials to provide protection for your lap from the radiation emitted from the back of your tablet or iPad. It blocks up to 96% of harmful Electromagnetic Radiation (EMR) which includes:
Low Frequency Radiation

Wi-Fi Radiation
Features

Blocks up to 96% of Electromagnetic Radiation to the underside.

Secures tablet and protects from damage

Built in tablet stand

Adjustable for different tablet sizes

Magnetic clasp keeps the tablet / iPad cover closed and iPad / tablet secure

Pen holder


How It Works?
The tablet cases are incorporated with lab tested shielding material into the front flap. Use the front flap as a shield between you and the tablet to protect you and your family and reduce your exposure from RF and ELF radiation that may increase your risk of cancer and other diseases by up to 96%.
Small and regular sizes available. This is the small size listing. See elsewhere in the store for the regular size.
Small size (18 to 21.5 cm wide by 11 to 14.5 cm tall**)

- Suitable for models like (not only):
Kindle Fire (2015)

Kindle Fire HD 6

Kindle Fire HD 8

Kindle Fire HD Kids
The iPad mini

Samsung Galaxy Tab A

Samsung Galaxy Tab 4

Samsung Galaxy Tab S2

Sony Xperia Z3 Tablet Compact
** If your tablet doesn't fit the minimum sizes the anti-radiation cover may still be suitable as follows:

The corners of the cover hold the tablet both horizontally and vertically. A tablet that is too short on one edge will still grip and hold the other way as long one of it's sides is 1cm longer or more than the minimum.
The radiation blocking cover continues to work effectively as a protective shield between the tablet and your body even though the tablet may not secured snugly within the cover.
Save this product for later
More about Anti-Radiation Chips, Smart stickers, Harmonising Buttons and Shields
Stick on anti-radiation protection shields etc are often made of metal which may block signal and prevent reliable mobile phone communications with signal towers. Mobile phones recognise the potential for a dropped signal and actually increase power to compensate. The result is a fast draining battery and an even higher radiation output as a result of using the product (an exception to this are shields that are placed in between the phone and the user as these do not impede signal to cell towers to any significant degree)
To manage mobile radiation exposure successfully please refer to our phone safety tips or shop our high quality anti-radiation products that have been carefully selected not just on effectiveness and quality but also on ease of use and design.
Mobile Safety Store Effective Anti-Radiation Products
Proven Technology. Same Day Shipping.