Will Using a Headset Reduce my Radiation Exposure?
If you notice people ambling along the street and talking to themselves, the chances are that they are talking on the phone but using a hands-free mobile phone kit. These headsets sound like a great idea as they keep the phone, and you might think the radiation, away from your head. But if you use one for protection you will be alarmed by the findings below.
Caution – Many Headsets May
Increase

Your Exposure!

It was thought for some time, that the best recommendation to help reduce your radiation exposure to mobile phone radiation was to use a headset. It was thought that since radiation decreases exponentially over the distance between you and the phone, this would solve the problem.

Research published by the UK Consumers Association showed that these headsets may actually intensify your exposure to harmful radiation! Results showed that the cables of some hands-free headsets acted like aerials, channeling dangerous radiation to your head. In fact, testing has indicated that your cell phone headset may actually raise the amount of radiation emitted by more than 300 percent!

To measure radiation levels, they used a laboratory with an international reputation for mobile phone tests and tested a number of regular wired headsets.
UK Consumer Association Conclusions
Many people have devices to keep radiation away from their head – hands-free kits. Some of these are sold by retailers or packaged with mobile phones. Others are available by mail order or the internet. But the ones we've tested have one thing in common – they don't work.
Other hands-free kits could have similar effects. These results took us by surprise… looking at several other kits, our experts thought they would also conduct the radiation. You can make a hands-free kit that doesn't act as an aerial – but this would need to be taken into account when designing the phone.
Air Tube Headset Solutions
The British Independent Group on Mobile Phones suggested that headsets are an ideal solution only if they were used with filters to stop the headset wire from acting as an effective antenna. One solution is an air tube headset. These conduct sound, but prevent any radiation from traveling up the wire to your brain. For our unparalleled range of airtube headsets please see below.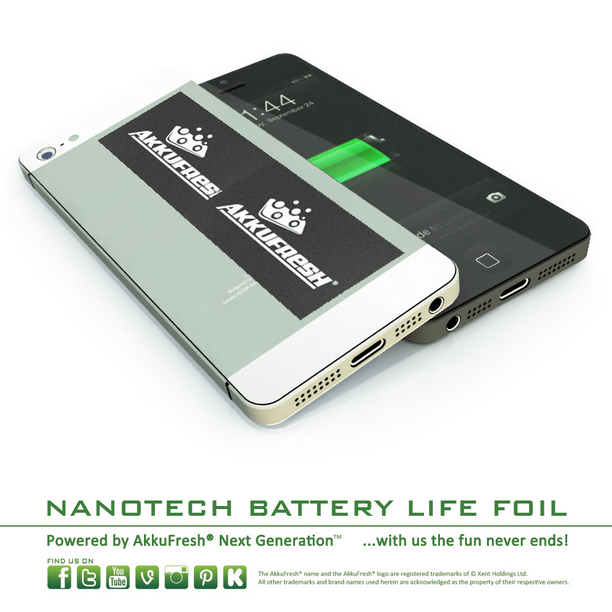 Akkufresh Battery Life Foil - increase battery life!
SKU 00150AK1
Product Details
AkkuFresh® Battery Life Foil increases battery life, longevity and reduces charging time for rechargeable batteries! (Ni-CD, Li-Ion and Li-Poly)

Please note that this is not an Anti-Radiation product. It does not provide any protection from phone or wireless radiation.
Features
Offers more talk time and a longer stand-by time (up to 50% longer) on aged batteries
Shortens charging time with up to 40% / Reduces the charging frequency.
Revitalizes worn or deteriorated batteries / Restores the original performance.
Blocks further battery deterioration.
Increases the total battery life span with an up to 30% longer lifetime (total charging cycles).
Eliminates the battery "memory" effect (only on Ni-CD batteries).
Protects the battery from electrical variations by regulating and filtering the current.
Easy to use and can be installed by the user in seconds.
Saves money by delaying the need to purchase new batteries.
Over 1 million sold internationally. Test results.

AkkuFresh® Next Generation is a small (29 mm x 50 mm / 1.14 in x 1.97 in) rectangular foil which is installed in seconds by the user (inserted inside the battery's compartment). AkkuFresh® Next Generation is compatible with any portable devices, after installation it must cover minimum 80% of the battery's biggest side. Use more pieces of AkkuFresh® Next Generation for larger batteries. AkkuFresh® Next Generation can be trimmed with scissors to adjust its size to the battery and to ensure that it fits perfectly. Can be placed around the battery this way you don't need to cut the foil.
AkkuFresh® Next Generation is based on ionXtra-Power®, a new exclusively developed nanoceramic material, a result of years of laboratory research.

Specifically created for modern mobile devices with a wide color display, camera, internet, Bluetooth, games and enhanced multimedia features, which require high energy, AkkuFresh® Next Generation answers the growing battery life demand of current and future handsets.

Both old and new rechargeable batteries can benefit from AkkuFresh® Next Generation. The AkkuFresh® Next Generation foil slows down the capacity loss of Li-Ion and Li-Polymer batteries and thus induces improved battery performance.

Specifications:
- Contains 1 x 29 mm x 50 mm Akkufresh Battery Life Foil.
- Enough Akkufresh Battery Life Foils should be purchased to cover 80% of the largest side of a battery.
- AkkuFresh® Next Generation can be applied to any specific product and is designed to fit virtually any professional equipment's battery.
Save this product for later