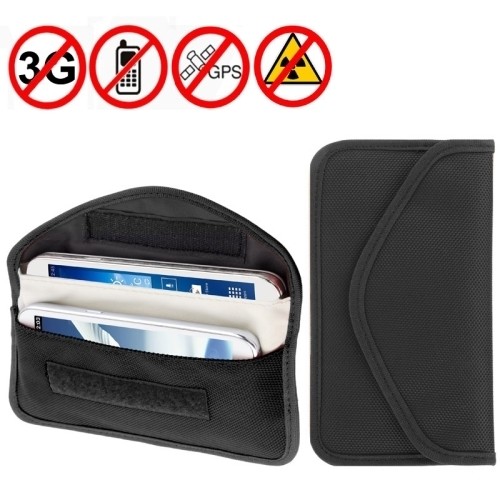 Nano Technology Anti Radiation Shielded Mobile Phone Wallet - Large
SKU 00075
Product Details
Nano Technology Anti Radiation Shielded Mobile Phone Wallet Large
FREE SHIPPING AUSTRALIA WIDE*
The Nano Tech Wallet protects the phone from scratches and wear as well as dramatically reduces your body's close-contact concentrated exposure to mobile phone radiation. The wallet can also be used to house and protect magnetic credit & ID cards from remote scanning & theft.
Features:
99.9% of radiation is blocked from penetrating through the case towards the body.
Slips easily in and out of a trouser or jacket pocket.
Opens & closes securely with a velcro flap.
Fits large smart phone sizes (easily fits even Plus sized smartphones).
Wallet size: 10 cm (3.94 inches) x 19.2 cm (6.38 inches) x 1.8 cm (0.71 inch).

How it works
The interior lining of the wallet is woven from silver coated threads (using nano-technology) which, being metallic, prevents mobile phone radiation from penetrating.
Outer pocket (shielded one side only): Stops 99.9% of radiation from penetrating the pouch and exposing the body. The phone will still receive and send calls, data and text etc
Inner pocket (shielded both sides): Stops 99.9% of phone radiation in ALL directions. The phone will not receive or send calls, data or text as signal is cloaked altogether. This pocket is a handy feature for people who need to quickly slip their phones in or out of use without going through the process of turning it on and off.
* Australia only, Express post not included; please contact us if required.


OUR SERVICE TO YOU

We are Australia's leading specialist mobile phone radiation accessory provider. All our radiation minimising technologies are tested and proven. Expect service that goes the extra mile including SAME DAY SHIPPING for orders received by 1:30pm; refer terms & conditions. Thanks for purchasing with us!

HEALTH
Men who keep a cell phone in their pocket for more than 4 hours per day have about a 50% lower sperm count (studies show categorically). Remaining sperm produced is also more sickly and less likely to be fertile.
Compelling anecdotal evidence suggests a link between breast cancer and mobile phones kept in the bra.
Save this product for later
Aircom Airtube headsets
Only Aircom Audio produces a truely a LIVE LISTENING EXPERIENCE! Sound that you'll not only hear, but feel in completely different way. For incredible live sounding Aircom headhones, pick your favourite model and purchase now.
UNIQUE TECHNOLOGY, PREMIER SOUND
Aircom headsets deliver a sound that no other headphone can duplicate. Sure, every headphone brand says great things about their sound, so what really is the big deal about the Aircom Audio range? Sound waves need air to travel through, lots of it. In fact, the more the better! (to an extent). A fundamental problem for every headphone brand is that headphone speakers are located inside earbuds that sit right up against the ear. Therefore there is very limited space between the speaker and your ear drum for sound to properly develop. Sound waves must be compressed and arrive at your eardrum compressed. This results in a sound that is artificial and has lost it's natural body and feel.
Aircom's airtube technology is completely different! It provides six times more air space than traditional headphones to achieve a genuine live listening experience. Premium sound performance that is full bodied, alive and realistic in a way that you've truly not ever heard in a set of earbuds before! That's why we patented it! That's why we know you'll love it!
MIND YOUR HEALTH. HEALTH IN MIND.
Aircom headsets utilise an airtube (rather than cable) to carry sound the last 10cm from earphone cable to your ear. This means that it is impossible for radiation signal to be conducted up wires to your inner ear and brain. With concerns about phone radiation continuing, Aircom headsets may just be healthier for you than 99.9% of the headphones on the market!